Law
Ten Years Later: What We Can Learn From Austin Texas DA Rosemary Lehmberg's 2013 DWI Arrest: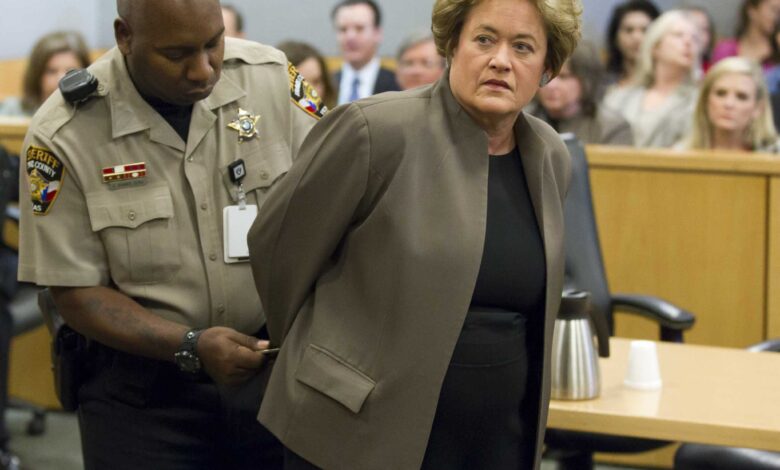 While rightfully stigmatized and incredibly unsafe, DWs are a lot more common than you'd think, with Austin Texas DA Rosemary Lehmberg's 2013 DWI arrest being a prime example of this.
Lehmberg, who was elected Travis County District Attorney in 2009 was arrested on Friday, April 12th, 2013 after a motorist reported her vehicle around 11:00 PM for erratic driving and swerving into the bike lane on FM 620 near the Comanche Trail.
When questioned by law enforcement, Lehmberg, who was 63 years old at the time, admitted to drinking two vodka drinks earlier in the night and, upon search of her vehicle, was found to be storing an open bottle of vodka in her car's passenger glove compartment.
Before being taken into custody, Lehmberg's blood alcohol concentration was 0.23, nearly three times the legal limit. In police footage of the incident, Lehmberg can be seen in a state of incoherence as she blames her bad back for her failure of a field sobriety test. Lehmberg can also be seen arguing with officers to let her go, and states "I'm the district attorney, get these cuffs off of me". Rosemary's arrest would mark the first of three Austin Texas DA employees to be charged with a DWI in the span of three years.
Prior to former charges being brought against her, Lehmberg pleaded guilty to a DWI through a public letter addressing her actions and her intentions to face rightful consequences. Lehmberg was subsequently convicted of a Class A misdemeanor, an enhanced first-time DWI charge due to her high blood alcohol concentration. With Austin being a city notorious for DWIs, Lehmberg's charges were not uncommon, however, her sentence was.
Lehmberg had her license suspended for 180 days, was sentenced to 45 days in jail, and was ordered to pay the $4,000 maximum fine for a Class A misdemeanor. After the ruling, Lehmberg's lawyer, David Sheppard stated that her sentence was the harshest an individual could receive for a first-time DWI charge.
While ultimately serving only 22 days in jail, Lehmberg's legal troubles were just beginning. The damning footage of her messy arrest, along with reports of her kicking and spitting at inmates while awaiting charges sparked a civil lawsuit seeking her removal from office, with a separate criminal investigation divulging whether her conduct in jail warranted an abuse of office. Even Rick Perry, the Governor of Texas at the time weighed in on the controversy and used his line-item veto to cut funding to an agency run by Lehmberg when she refused to resign.
Although both civil and criminal complaints brought against Lehmberg were unsuccessful and a judge refused to remove her from office, she declined to run for reelection and retired when her term ended in 2017.
Lessons From Lehmberg:
Although a harsh example, there is much to learn from Austin Texas DA Rosemary Lehmberg's DWI arrest:
First, not only can a DWI happen to anyone, but if convicted you can expect to face the full extent of the law regardless of your status. Nobody is above the law so it is crucial to drink responsibly.
Secondly, DWIs are a catalyst for further consequences. While in Lehmberg's case, these consequences were civil and criminal complaints, in most cases, consequences will come from having a criminal record. DWI convictions cannot be expunged from a criminal record and are known to cause difficulty in finding or retaining housing and employment. The fact that Lehmberg's case is still talked about a decade later also proves that DWIs are forever, and the best way to prevent the lasting stigma of a DWI is to avoid getting one altogether.
Third, when arrested it is crucial to remain compliant. While it can be said that the judge made an example out of Lehmberg because of her status as the Travis County District Attorney, her egregious behavior while in police custody surely contributed to her extreme sentence. Anything you do in the custody of law enforcement can be used against you, so it's important to follow police instructions and say as little as possible.
While an unfortunate event, Lehmberg's DWI can still be used today to deter individuals from drinking and driving and show them some of the harsh realities and consequences of a DWI conviction.
Sources:
https://dwidude.com/travis-county-da-sentenced-to-45-days-in-jail/
https://www.austinchronicle.com/daily/news/2013-04-19/lehmberg-sentenced-to-45-days-in-jail/
https://abcnews.go.com/blogs/politics/2014/08/meet-rosemary-lehmberg-the-district-attorney-at-the-center-of-the-rick-perry-indictment
https://spectrumlocalnews.com/tx/austin/news/2016/02/9/3rd-travis-county-da-employee-facing-dwi-charge-in-three-years
https://www.kvue.com/article/news/local/attorney-files-ethics-complaint-against-rosemary-lehmberg/269-260148791